Short Term English Program (STEP)

20 lessons / week
---
Short Term English Program (STEP) is designed for students on a visa waiver, tourist visa or a visa other than F-1 student visa. All levels are held in the morning through Tuesday - Friday.
A dynamic General English course based on internationally-recognized goals and standards developed by CEFR and University of Cambridge. Focusing on real-life communication, students acquire the full-range of skills and knowledge, including listening, speaking, reading, writing, vocabulary, grammar, and pronunciation. Students see their progress clearly and easily through "Can Do" statements showing the mastering of certain communicative tasks at the end of each week. Each course is made up of two periods, taught by a separate teacher.
General Information
Ages:

From 17

Levels:

All Levels

Lessons:

20 Lessons / Week

F-1 Student Visa:

Not required
Schedule:

Tuesday to Friday

Class Time:

8:30am - 12:30pm

IIE Nationality Mix:

Yes

Thursday Social:

Yes
Time Table
8:30am-10:20am:

Listening & Speaking
(includes Grammar)

10:20am-10:35am:

Break

10:35am-12:30pm:

Reading & Writing
More Program Details
General English20 Lessons / Week
This class focuses on speaking in real-world situations, but also includes listening, vocabulary, reading, writing and grammar. Each week there is a different topic that relates to real life scenarios you encounter while using English in every day life.
There are role-plays, debates and discussions about current topics and current events, travel and survival English, English for work, slang and idioms, conversational English and much more. These skills will help you to speak English better in every aspect of your life.
Included in the Program
Great opportunities to practice your English.
Thursday Social
Each month, everyone participates in our unique Thursday Social: we get together to practice English and meet new people. Students speak to students at different levels, different nationalities, different accents, pratice small talk and make new friends. This builds confidence and shows how much your English is improving.
Daily Activities
We plan a full calendar of exciting and unique daily activities so that you can enjoy the beauty of Hawaii while practing English. They include free weekly sunset beach yoga and free weekly hula, surfing, hiking, beach trips, barbecues, catamaran cruises, more!
Tuition & Fees 2018
All fees in U.S. dollars. Hawaii G.E. tax included.
All prices are subject to change without notice.
2018 tuition fees will be honored for 2019 bookings paid by Nov. 1, 2018.
One Lesson = 45 Minutes of Group Class Time
Military or Kamaaina rate - ask us
REGISTRATION & MATERIALS 2018
Fees
Registration Fee
(non-refundable)
$150
Textbook & Materials Fee
$150
(per English Level)
Express Mail Fee
$100 (optional)
SHORT TERM ENGLISH PROGRAM
20 lessons
| | |
| --- | --- |
| | Tuition |
| 1 week | $370 |
| 2 weeks | $660 |
| 3 weeks | $950 |
| 4 weeks | $1,150 |
| 5-8 weeks | $280/week |
| 9-11 weeks | $270/week |
| 12+ weeks | $255/week |
| 24+ weeks | $225/week |
Other General English Programs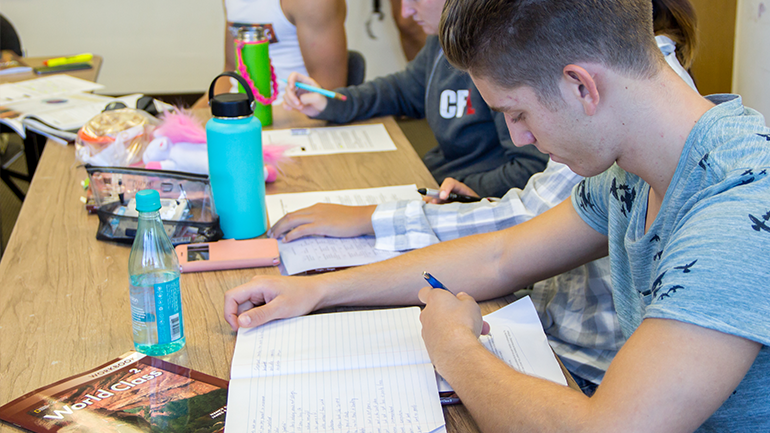 A popular program designed for students on an F-1 Student Visa. All levels are held in the morning Monday-Friday. We recommend students study three months or more. This program is also offered in an Academic Year schedule with session breaks.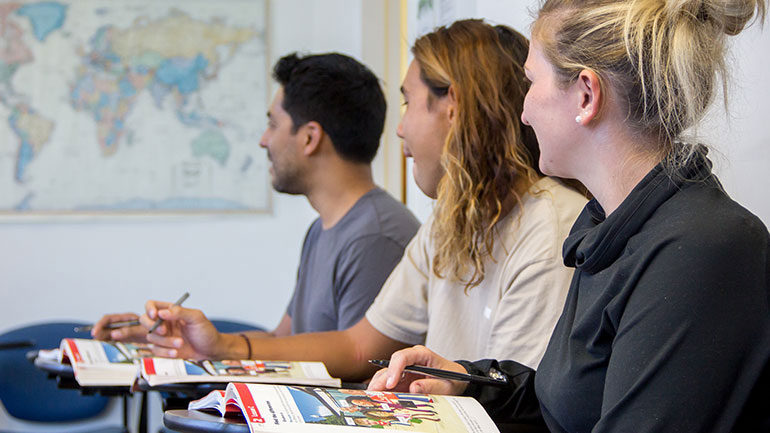 For students seeking maximum improvement in minimum time. This morning & afternoon program can be offered with afternoon Small Group Business, TOEFL or TOEIC options.