High Quality, Accredited & Fun. IIE Hawaii is a Global Leader.
Kids & Teens Summer English 2019

July 8th to August 16th 2019
---
Our very popular Kid-STEP and Teen-STEP
summer programs are scheduled for
6 weeks in 2019, July 8th to August 16th.
IIE Hawaii is a global leader in English education for ages 6-16. Our programs are exciting, high-quality and nationally accredited, which may explain why they are the biggest and most established in Hawaii.
More than 200 juniors attend each year from all around the world, many of them returning students. Past students have come from Japan, Russia, Switzerland, South Korea, Spain, France, Italy, China, Czech Republic, Taiwan, Ukraine, French Polynesia, Germany, U.S. and more.
Our English-only policy ensures that students gain confidence in English communication skills, a very important foundation in future learning. It's real English, real fun... real learning!
Students may register from 1-6 weeks. These programs always fill up very early. Early registration is highly recommended!
Summer 2019 Activity Calendars and Application Form
General Information
Ages:

6-12

Levels:

Lessons:

20 Lessons / Week

Visa:

Not Requird
Schedule:

Monday to Friday

Class Time:

8:45am to 4:00pm

IIE Nationality Mix:

No
Ages:

12-16

Levels:

Lessons:

20 Lessons / Week

Visa:

Not Required
Schedule:

Monday to Friday

Class Time:

8:45am - 4:00pm

IIE Nationality Mix:

No

Thurthday Sosial:

No
Time Table
8:45am

Meet at IIE

8:45am - 12:30pm

Activity

12:30pm - 1:15pm

Lunch Break

1:15pm - 4:00pm

English Lessons
More Program Details

We offer exciting English plus Activity programs for children between the ages of 6-12 years old in the Kid Short Term English Program (K-STEP), and young adults between the ages of 12-16 years old in the Teen Short Term English Program (T-STEP).
Students have three hours of beginner to intermediate level lessons at our school Monday-Friday, and different fun activities and trips around Hawaii every school day. Students may join from one week or up to the full program. Snacks are included, but students must bring their own lunch. Homestay may be available for T-STEP students.

Classes are formed by ages.
Going out by bus or on foot after gathering at the school.
Students have great pleasures to go to zoos, Ice skating rinks and museums with their friends. Our exclusive activity staff attend to maimtain the security. Pre-activity guidance and communication during the activity perform all in English so that students can have muximum popportunity to speak English.

Classes are formed by their English levels.
All our teachers are certified and native English speakers. IIE's original program is based on the textbooks of University of Cambridge and and Oxford University. The themes of the class are assigned weekly and students learn English in accordance with the theme. Students write a journal about what they experience in the morning activity and learning speaking, listening, reading and writing skills in the balance while they enjoy singing songs and playing games. Mini tests take place regularly in order to check the level and implovement. Many students give voices as "I came to like English." and "I want to learn English more."
Tuition & Fees 2019
All fees in U.S. dollars. Hawaii G.E. tax included.
All prices are subject to change without notice.
2019 tuition fees will be honored for 2020 bookings paid by Nov. 1, 2019.
One Lesson = 45 Minutes of Group Class Time
Military or Kamaaina rate - ask us
REGISTRATION & MATERIALS 2019
Fees
Registration Fee
(non-refundable)
$150
Textbook & Materials Fee
$150
(per English Level)
Express Mail Fee
$100 (optional)
KIDS & TEENS STEP
(July 8-August 16, 2019)
Ages 6-16 yrs old
Textbook / Materials Fees: Included
Tuition & Activity Fee must be paid.
| | | |
| --- | --- | --- |
| | Tuition | Activity |
| 1 week | $645 | $270 |
| 2 weeks | $875 | $540 |
| 3 weeks | $1,290 | $810 |
| 4 weeks | $1,675 | $1,080 |
| 5 weeks | $2,010 | $1,350 |
| 6 weeks | $2,370 | $1,620 |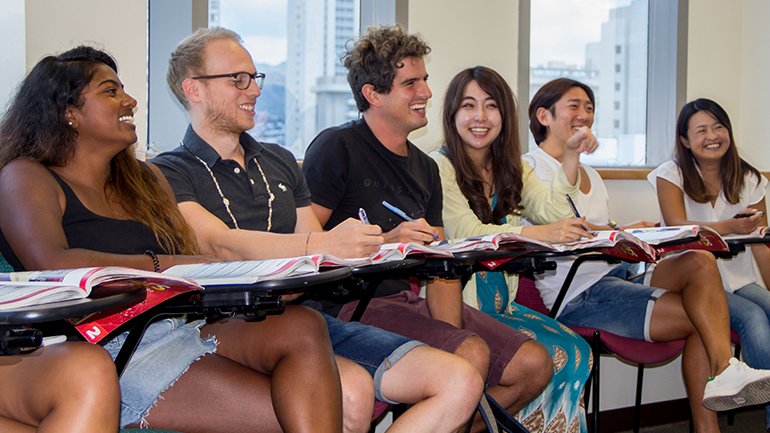 The main General English program for students on a visa waiver, tourist visa or a visa other than F-1 student visa. All levels are held in the morning through Tuesday - Friday.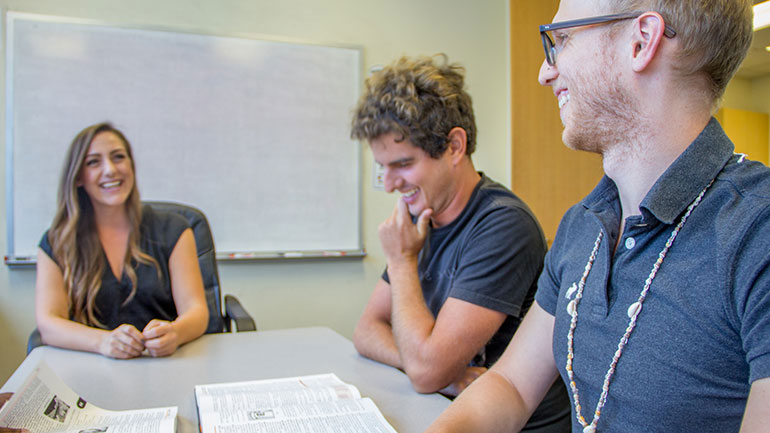 Speaking-focused with a limit of 5 students, students receive maximum teacher attention and correction in a warm, friendly environment. Tuesday-Friday, 1:15-3:15pm.