Hawaii Rainbow College Partnership

IIE & Kapiolani Community College (KCC) Pathways
---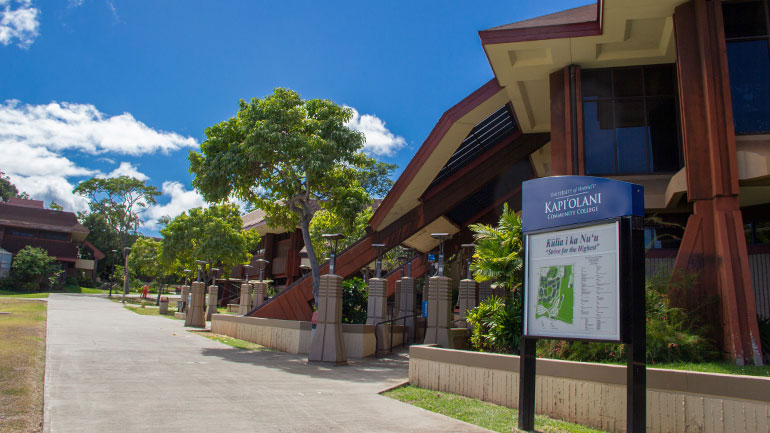 Our unique Hawaii Rainbow College Partnership with University of Hawaii's Kapiolani Community College (KCC) offers special pathways leading to college/university studies and career training.
Acceptance by IIE in the Academic Track or Cambridge Exam Preparation programs, students may receive conditional acceptance to KCC. Students also receive special assistance from both IIE and KCC counsellors during their studies at IIE. At graduation, students are entitled to a certificate of official recognition and acceptance by KCC.
Step on the pathway to success!
College Pathway Details
Academic Track
After successful completion of IIE's Academic Track program, students transfer directly to KCC college credit programs with no TOEFL score requirement. Students should be minimum B1+ level (intermediate) to begin Academic Track.
Cambridge Exam Preparation
Through the special agreement, students accepted into IIE's Cambridge Exam Preparation courses (CAE, FCE) are also conditionally accepted into KCC college credit programs upon successful completion of the course. In addition to KCC college acceptance, students receive an internationally-recognized certificate from Cambridge University. The CAE and FCE certificates are accepted as proof of English language ability by colleges and universities world-wide, and it's valid for life!
Campus Pathway Details
This special joint venture offers students the unique opportunity to study intensive English at both institutions, Students have a taste of life on a beautiful American college campus and also experience Waikiki beachside living at IIE Hawaii, a great combination experience.
Through the special agreement between IIE and KCC, F-1 students study 12-20 weeks at IIE Hawaii and 1-2 semesters at Kapiolani Community College (KCC). Students are automatically enrolled in KCC's ESOL 197* non-credit English program and IIE Hawaii's Intensive English Program (25 Lessons). Students require an F-1 Student Visa, and must have a minimum TOEFL (paper) score of 400, or be at least B1 level (low-intermediate) at IIE Hawaii.
Ask IIE for more information about study dates.
* Upon successful completion of KCC's ESOL 197, students qualify for placement into KCC's credit programs.
About kapiolani community college
On a beautiful campus overlooking the Pacific Ocean, Kapiolani Community College has more than 9,000 students from about 47 countries. It has popular programs in Liberal Arts, Second Language Teaching, Accounting, Marketing, Information Technology, STEM, Travel and Tourism, Hotel and Restaurant Operations, Culinary Arts, and more.
KCC grants two-year degrees, and is part of the larger nationally-recognized University of Hawaii system. After completing the first two years at KCC, students may transfer to the University of Hawaii at Manoa, or universities in Hawaii or on the American mainland. Employment with local businesses is also possible for F-1 students as part of Optional Practical Training (OPT).
College programs at KCC
Associate in Arts –

Liberal Arts courses (may transfer to university for Bachelor's)

Associate in Science –

Accounting, Marketing, Information Technology, STEM, Travel and Tourism, Hotel and Restaurant Operations, Culinary of Arts. OPT possible after completion of these majors.

Certificate of Achievement -

In above programs (except Liberal Arts) after 1-1.5 years. OPT possible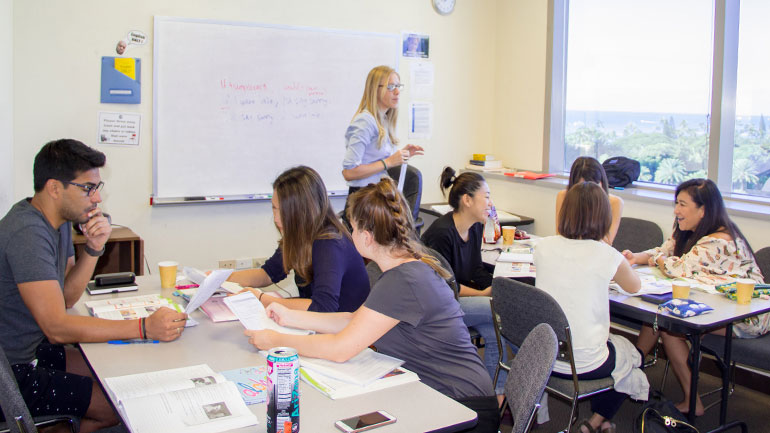 College Pathway featuring the Intensive English Program (IEP) with Academic English as Monday elective. Students also receive afternoon tutoring on academic English skills for a minimum of 2 hours weekly.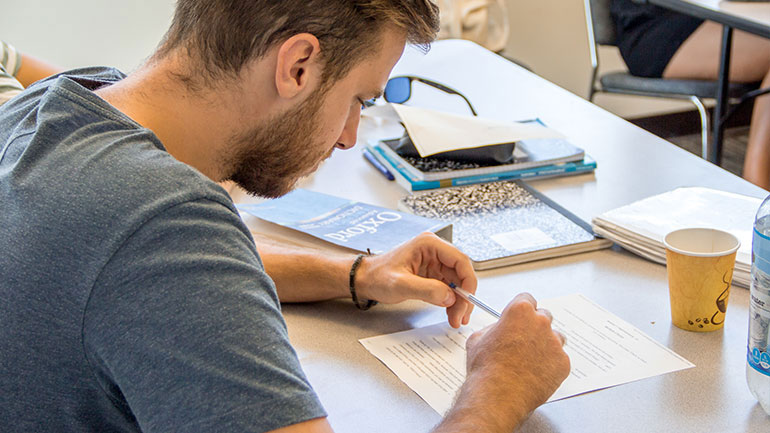 An authorized official Cambridge Preparation Center, IIE offers courses in the First Certificate in English (FCE) and the Certificate in Advanced English (CAE) three times a year.