Beachwalk Student Residence

Across from School, One Block from Beach
---
You can live directly across the street from the school, and only a three minute walk to Waikiki beach. For IIE students, the Beachwalk Student Residence location is super convenient.
The Beachwalk is an older building built around a swimming pool in a garden style setting. Students should not expect condo standards. Each unit has its own private bathroom, air conditioning, a kitchenette with a stove top or hot plate, small fridge and microwave. Very basic room furnishings include bed, dresser, nightstand, desk or table/work station, chair and television. All studios come with free wifi and free cable TV.
IIE students can book private rooms or semi-private rooms. IIE will provide a same sex roommate for students who book an individual bed in a semi-private room. Rooms must be booked on a weekly basis. Sunday check-in. Saturday check-out.
Important:
Smoking is not permitted on property. Alcohol and responsible drinking is only permitted inside the rooms for those age 21 and over.
Student Residence Information
Ages:

From 17 yo

Room Type:

Single room / Double room

Min. Occupancy:

1 Week

Max. Occupancy:

N/A
Meals:

No

Check in :

Sunday

Check Out:

Saturday
furnished private room / semi-private room with kitchenette
(IIE provides a same sex roommate for a semi-private room)
free wifi and free cable TV
full access to a community lobby/lounge, swimming pool, and a laundry room with coin washers and dryers
the building holds a variety of free student activities hosted by Resident Advisors who live on the property, and are available 24 hours to assist students
Accommodation Fees 2018
All fees in U.S. dollars. Hawaii G.E. tax included.
All prices are subject to change without notice.
2018 tuition fees will be honored for 2019 bookings paid by Nov. 1, 2018.
One Lesson = 45 Minutes of Group Class Time
Military or Kamaaina rate - ask us
ACCOMMODATION PLACEMENT FEE
Fees
Placement Fee
(non-refundable)
$190
WAIKIKI BEACHWALK STUDENT RESIDENCE
One-time Maintenance Fee: $225 (except 1 week stay)

Fees below per person.
| | | |
| --- | --- | --- |
| | Shared Double | Private Studio |
| 1 weeks | $630 | $850 |
| 2 weeks | $1,000 | $1,430 |
| 3 weeks | $1,345 | $2,085 |
| 4+ weeks | $375/week | $575/week |
| 16+ weeks | $330/week | $520/week |
Other Closely Located Accommodations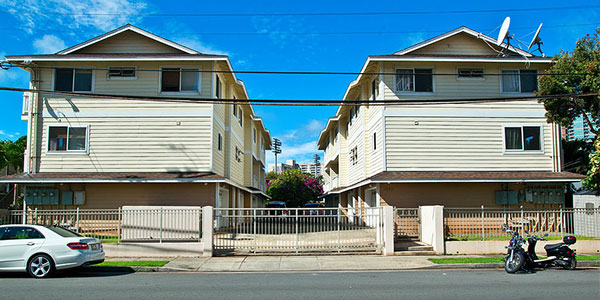 Conveniently located near McCully Shopping Center, the Shared Apartments are close to Waikiki and only about a 15-20 minute walk to school and beach.
Pineapple Place
McCully Shared Apartments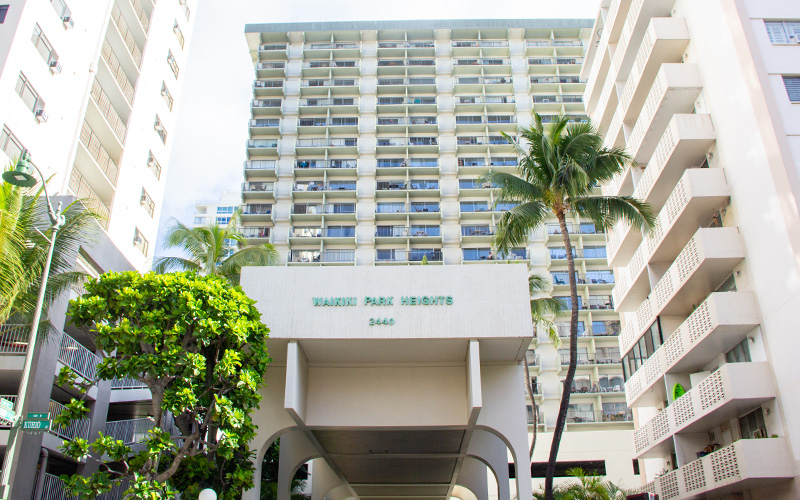 We offer reasonably priced condos in Waikiki which are located only 5-20 minutes on foot to IIE.
Island Colony
Hawaiian Monarch
Bamboo
Park Heights
Ilikai